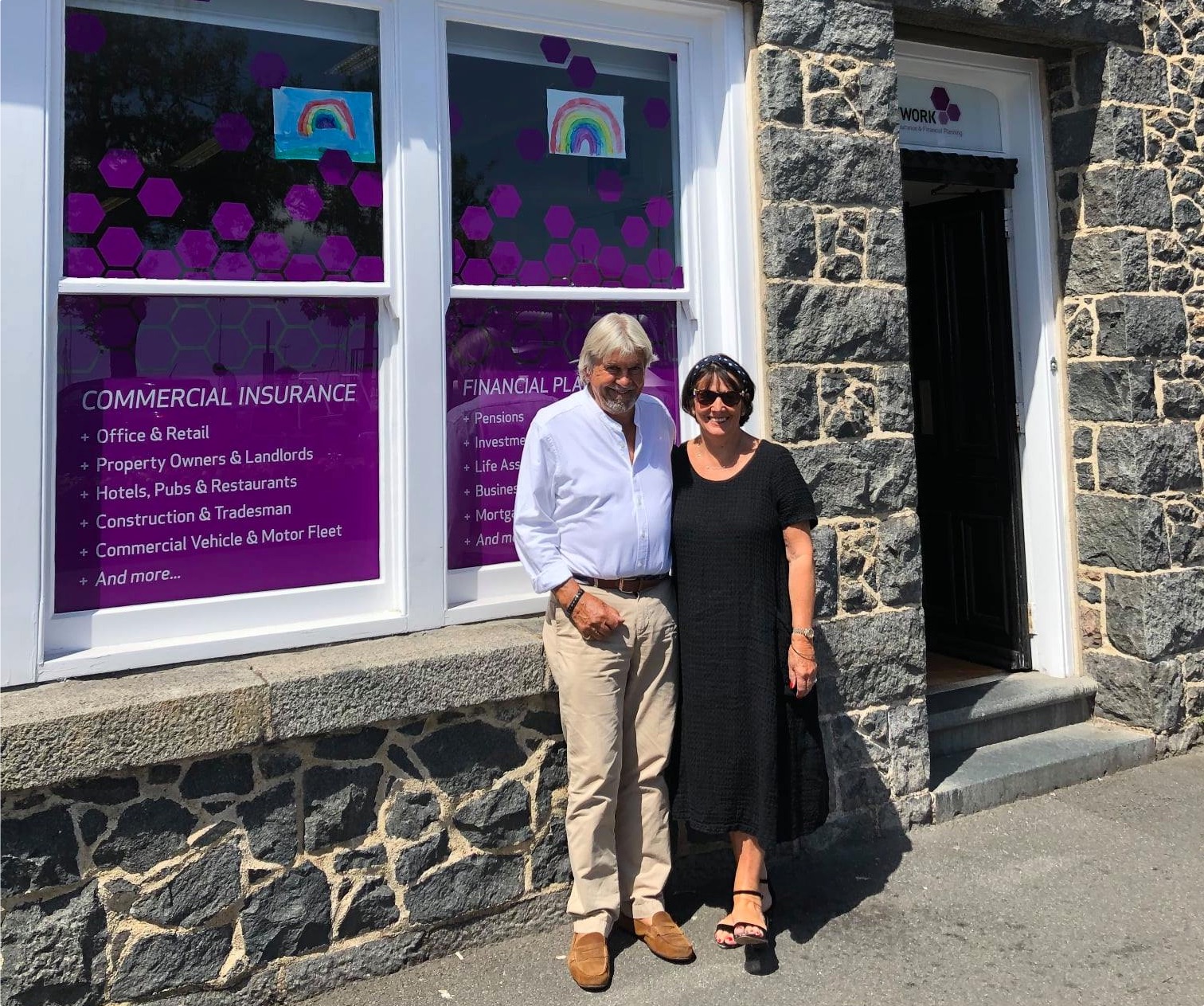 June and Douglas Goater Retire
After 14 successful years, we are both delighted and sad at the same time to announce that June & Douglas Goater will be retiring from their executive roles at Network. June will become a Non-Executive Director on the board and Douglas will remain as Chairman.
Douglas & June will both hand over their day-to day roles, although Douglas will be working ad-hoc within the office to further our claims proposition.
In June 2006 June & Douglas Goater took a leap of faith and purchased NetworkDirect Ltd (as we were then known). Since then, the company has transformed from a small insurance broker to one of the leading Independent Insurance Brokers and Independent Financial Advisers in Guernsey.
Oliver, Managing Director of Network said, "It has been an honour to work with June & Douglas (Mum & Dad). Not many children have the privilege to work alongside their parents and in the process build a successful business. As a child you look up to your parents and I have total admiration for what they have achieved in such a short space of time and look forward to building on their legacy".
June & Douglas said, "We are delighted with what we have accomplished at Network since 2006. It has been hard work, with many challenges along the way; however we could not have achieved it without the dedication and support of the team at Network and the loyalty of our customers. We feel the time has come to step back and enjoy a more relaxed way of life, possibly without the planned travel! Not many business owners have the advantage of being able to leave control of their company to a family member, and we have three within the business as well as an amazing team. We have complete confidence in the current team to drive the business forward and look forward to watching them grow. No doubt we will be popping in out of the blue to see how they are getting on."
All the team at Network wish June & Douglas and very happy retirement.
Network Insurance & Financial Planning Limited is an Independent Insurance Broker and Financial Adviser providing innovative, specialist advice in Guernsey & Jersey. We are privately owned and not tied to any one agent or insurer, and our independence allows us unrivalled market penetration.
The way in which we treat our customers is an integral part of our business principles, reflecting the value we place on customer focus. One of our key objectives is to be known as a company that delivers the best customer service and is also recognised for the quality of advice we provide. This is reflected in our mission statement:-
To earn the long-term loyalty and trust of our clients by exceeding their expectations in our commitment to service, value, professionalism and integrity.
Network, with you every step of the way.
Sign Up To Our Newsletter
We'd love to stay in touch and keep you up to date with the very best insurance and financial planning advice